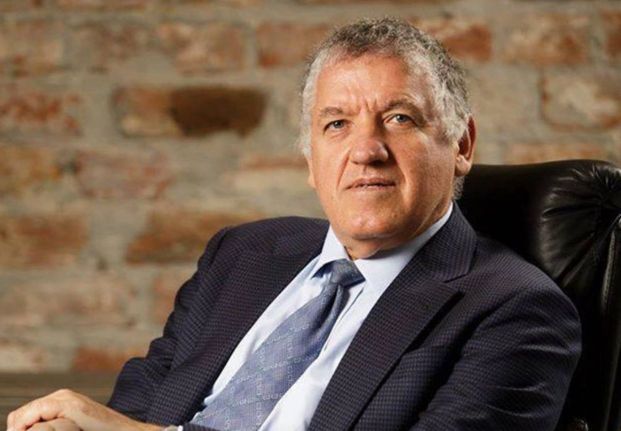 Date &Place of Birth: 25th February 1957, Melbourne, Australia
Nationality: Australian, Greek
Marital & Family status: Married, 7 children
Current work address: Genesis Athens Clinic, 14-16 Papanicoli street, Chalandri, Athens 152 32 Greece. Tel: +30 210 6894326; Fax: +30 210 6890897
Konstantinos Pantos was awarded his medical degree from the University of Athens in 1981. He specialized in Obstetrics – Gynecology at the University of Athens and in 1988 he was awarded the Doctorate in Medicine (PhD), University of Athens, Greece. He specialized in the field of medically assisted reproduction technology as a senior registrat in the Royal Women's Hospital in Melbourne, Australia (1987-1989).
With nearly thirty years of experience in obstetrics and gynaecology and twenty five years of experience as an infertility specialist, Konstantinos Pantos is expert in all aspects of assisted reproduction treatment and technology.
In 1994, Dr. Pantos established the Center for Human Reproduction, a private infertility unit, which is now one of the Europe's largest, fully integrated, specialized provider of fertility services performing over 4000 IVF cycles per year, accepting infertile couples from all over the world, including Europe, Australia and USA. Only in Australia, over the past few years, more than 500 babies have been born from couples treated in IVF procedures in his centre. It is internationally renowned for its high quality of care and efficiency and for its pioneering work in infertility and has always been successfully incorporating novel and pioneering technologies in patient care providing the best treatment, using custom-tailored technologies to optimize results for each individual.
In 2004, Dr Pantos founded GENESIS ATHENS Clinic, a private General Gynecological-Surgical Clinic which has made a difference in the health industry. It is a modern Clinic, equipped with the most state-of-the-art instruments, staffed with Greece's top medical scientists, with the scope to satisfy the needs for highly specialized services and "one day clinic" surgical techniques. The Clinic has an IVF Unit, a surgical department, a gynaecology department, microbiolody and biochemistry laboratory and a plastic surgery department. The ultramodern operation rooms, equipped with state-of-the-art technology, ensure complete safety in the provision of medical services, with the aim to provide medical assistance not only to women, but also to men as well as to couples with fertility problems. This is why GENESIS ATHENS Clinic attracts international patients and couples from all over the world.
In the previous years, Dr Pantos has served as a founder and consultant to several institutions. He established several modern IVF units in different regions of Greece: Volos (1995-2012), Ioannina (1996- to date), Patra (2007-2011) bringing infertility treatment closer to patients all over Greece and abroad, at Medsana Diagnostic Center in Buckarest, Roumania (1997-2002). He has established collaborations and currently, he is an infertility consultant at GAIA – Obstetrics and Gynaecology Clinic, Athens (http://www.iatriko.gr/en/gaia) and at EUROMEDICA GROUP, Athens (www.euromedica.gr).
In addition to his extensive experience in practice, Dr. Pantos is the author or co-author of peer reviewed publications as well as presentations at national and international meetings in the fields of assisted reproduction, reproductive genetics, obstetrics and gynaecology. Indefatigable in the search for improvements in the care of his patients, and travelling incessantly, Dr Pantos is known worldwide for his devotion to his subject and his Center. He is a welcome speaker at numerous conferences reporting on his successful advances in the assisted reproduction field. Her has been involved in numerous organising and national scientific committees for the organisation of national conferences and congresses. He is also a member of international organizations, including ESHRE – European Society of Human Reproduction and Embryology, Fertility Society of Australia, The New York Academy of Sciences, American Fertility Society and national organisations including Hellenic Medical Society.
Today, Dr. Pantos continues to be a very active Scientific Director at the GENESIS ATHENS Clinic. He pursues his lifelong thirst for new ideas and developments in reproductive genetics by continuing to study the latest scientific and professional developments and helping catalyze continuing innovations in assisted reproduction. As an IVF specialist and a well experienced obstetrician and gynaecologist, Dr Pantos embodies what GENESIS ATHENS Clinic has come to represent. Today, GENESIS ATHENS Clinic has one of the leading IVF centres, combining infertility clinical application and scientific research for the delivery of important, pioneering, high quality medical treatment and patient care.
Research Interests And Pioneer Clinical Applications
Dr Pantos has established scientific collaborations, to conduct research for the evaluation and improvement of the clinical application in assisted reproduction technology, with national and international institutions and universities, like the Monash Immunology and Stem Cells Laboratory (MICSL), Melbourne, Australia; The GENOMA Molecular Genetics Laboratory, Rome, Italy; the Medical Genetics Laboratory, University of Athens, Greece; PGS Taskforce, ESHRE – European Society of Human Reproduction and Embryology.
In 1997, Dr Pantos was the first in Greece and one of the few in the world, to offer blastocyst culture and blastocyst transfer with improved pregnancy rates. In 2003, Dr Pantos and his team pioneered blastocyst biopsy and preimplantation genetic diagnosis (PGD) for β-thalassaemiaresulting in the first worldwide live birth of the healthy child following the application of blastocyst biopsy and PGD. This novelty has included the IVF unit (the only one from Greece) in the history of IVF: The milestones http://www.ivf-worldwide.com/ivf-history.html.
The most known and well received research project by the scientific community, which also received more than 92 citations in the media worldwide, was published in 2008 and involved the investigation of a novel technique to link developmental competence with gene expression patterns. This novelty positioned Dr Pantos and his team for a second time in the worldwide unit IVF directory, IVF Ηistory: The milestones http://www.ivf-worldwide.com/ivf-history.html
Recently, Dr Pantos and his team has been selected and recruited by the European Society of Human Reproduction and Embryology (ESHRE) to participate in Randomised Control Trial ( http://www.eshre.eu/ESHRE/English/Specialty-Groups/Study-groups/page.aspx/1546 ) with an intention-to-treat analysis, of the use of preimplantation genetic screening for aneuploidy by means of microarray comparative genomic hybridization for the chromosomal analysis of the polar bodies (PB) of oocytes collected for in vitro fertilization.
In February 2011, Dr Pantos was interviewed by the CNN channel for successfully treating a couple, both carriers of the rare inherited eye disease called Leber's congenital amaurosis, who delivered a healthy baby following PGD treatment http://www.cnn.com/worldview (or directly on http://edition.cnn.com/video/#/video/international/2011/01/31/wv.embryo.euro.switch.bk.d.cnn ).
Dr Pantos, has recently liaised GENESIS ATHENS Clinic with the University of Athens, in order to offer an e-learning educational program for University' s medical graduates and scientists, who wish to acquire necessary skills for a successful career in the assisted reproduction field.