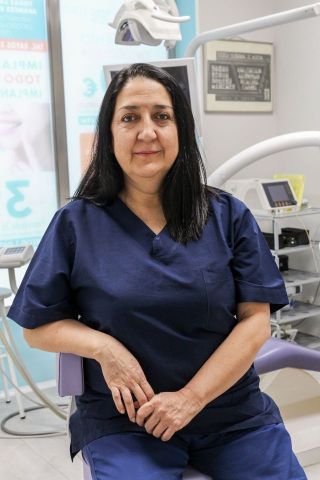 MARIA DEL PILAR GARCIA ACEVEDO
Graduated from the COLOMBIAN SCHOOL OF MEDICINE EL BOSQUE June 1988 in Bogotá Colombia.
Homologation to the Spanish title of Bachelor of Dentistry granted by the Ministry of Education and Culture February 1988 in Madrid Spain.
Certification of the Institute for Scientific and Technological Training INFOCITEC for the Implementation and Use of X-Ray Devices for Medical Diagnosis purposes. February 1999 in Madrid Spain.
Medical Director of the Clinic.
DENTIST SPECIALIST IN IMPLANTOLOGY.
36 Years experience General Dentistry
20 years of experience in IMPLANTOLOGY
1996-2000 DEBODENT CLINIC. FUENTIDUEÑA OF THE TAJO. MADRID. Tenured dentist.
1995-1997 DENTAL CLINIC DR. BALLESTER. MADRID General and cosmetic dentistry
1997-1998 TALAVERA DE LA REINA DENTAL CLINIC General and cosmetic dentistry
1997-1998 DENTAL LINE DENTAL CLINIC General and cosmetic dentistry
1998-1999 MEIMAR DENTAL CLINIC General and cosmetic dentistry
1999-2003 VITAL-DENT CLINIC MADRID. General and aesthetic dentistry
2001-UP TO DATE CLÍNICA DENTAL SUAVILASER.DENT Registered Dentist, General and Aesthetic Dentistry. Specialist in IMPLANTOLOGY
2004-TO DATE INSADENT DENTAL CLINIC-2001 Specialist in IMPLANTOLOGY
2008-Until 2010 dental alliance dental clinic. Fuenlabrada madrid. Specialist inImplantology
2010- Up to date dental clinic medical dentistry GROUP Specialist in IMPLANTOLOGY
2010-Up to date san bernardo medical center dental clinic specialist in implantology
2015-To date. Kanon omaira dental clinic specialist in implantology
Academic training:
1976-1981 Academic baccalaureate, anglo americano bilingual school
1983-1989 Higher degree in dentistry, colombian school of medicine "el bosque".
1998 Title approved by the spanish ministry of education and culture degree in dentistry
Other courses:
November 1999 Theoretical-Practical Course on IMPLANTOLOGY.
Illustrious official college of dentists and stomatologists of the 1st region january 1999 course of management of x-rays and radio-installations. /infositec. Madrid
June 1999. Theoretical-Practical Course laser management in dentistry casa kavo. Madrid
February to December 2000: Ceosa basic principles in implantology.
COURSE I
Surgery in implantology
COURSE II
2nd surgical phase and implant-supported prosthesis.
COURSE III
Implant-supported prosthesis.
IV COURSE
Advanced implantology and complex cases.
February 2001 Diagnosis in aesthetic dentistry
March 2001. Diagnosis in surgery.
June 2002. Aesthetic dentistry
2002 Implants and rehabilitation on implants / impladent
2001-2002 Practical course of surgery and implants
2003 Bio-aesthetic rehabilitations course
2006 40 years of osteo-integration / 3i
2007 Early diagnosis of oral cancer / official association of dentists
2009 Osseolife implant prosthesis
2012 VII Updating conference on implantology / mozograu
2014 Conference on bone and soft tissue regeneration through the use of plasma./ bti
2015 Introduction to cad/cam technology. /ziacom
2016 IX Congress of updating in implantology. / boy grau
2016 Emergencies in the dental office / francisco de vitoria university
Graduated in Dentistry from the Central University of Venezuela, Caracas, (2006-2012).Homologation of the title of dentistry in Spain (2 Master's degree in advanced orthodontics from the European University of Madrid (2013-2016).
Invisalign accreditation (2016).
Master Damon (2017).
European Certificate in Orthodontics from the European University of Madrid (2016-2017).
Certification in lingual orthodontics. win (2018).
Orthodontics and orthognathic surgery course by dr. Bonita and Dr. ten. (2021).
Spark certification (2022).
Director in dental radiological facilities. Official title of the Nuclear Safety Council.
Santa Maria University of Venezuela 2007 -2012
DIPLOMA IN ENDODONTICS
Central University of Venezuela 2013
MASTER IN RESEARCH IN DENTISTRY
International University of Catalonia UIC 2013-2015
EUROPEAN MASTER IN ENDODONTICS
International University of Catalonia UIC 2013-2016
DENTIST TITLE APPROVAL
Santiago de Compostela University 2016-2018