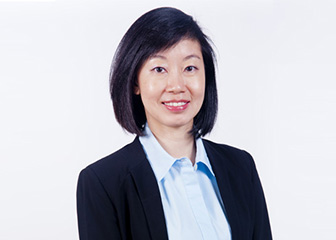 Graduating from NUS in 1990, Dr. Chan was attached to the Ministry of Health as a dental officer for 2 years, after which she joined our group as an associate dentist in 1991. Dr. Chan has developed a great deal of skill and expertise in general dentistry from her 21 years of working experience. Many patients find her to be very friendly and caring. Dr. Chan is a certified CEREC practitioner and she believes in giving her patients aesthetic and durable restorations designed with the CAD-CAM restoration system. Specialties Dentistry
Dr. Chng Hui Kheng graduated from the National University of Singapore (NUS) with a Bachelor of Dental Surgery and later, The University of Melbourne, Australia where she obtained a Graduate Diploma in Clinical Dentistry and Master of Dental Science (Endodontics) in 2000. Dr. Chng is on the Roll of Specialists (Endodontics) (2004), and a Fellow of the Academy of Medicine, Singapore.
Dr. Chng was an Assistant Professor with the Department of Restorative Dentistry, NUS (2001-2005) where she taught the undergraduate and post-graduate Endodontic Residency Programme. Her research interest in Endodontics and dental hard tissues resulted in 2 patents being filed, in addition to numerous scientific papers and abstracts in peer-reviewed journals. Dr Chng has given lectures, presentations and conducted hands-on courses on Endodontics at many professional conferences at both the domestic and international level.
Dr. Chng is a member of the Singapore Dental Association, and Society of Endodontists, Singapore. As chairperson of a subcommittee within the Society of Endodontists, Singapore, she first authored a set of guidelines on root canal treatment in Singapore which was adopted by the society and published in a report in the Singapore Dental Journal in Dec 2004.
Specialties
Dentistry
Dr. Chung obtained his dental degree from National University of Singapore in 1983 and later completed his postgraduate training and obtained his Masters in Science and Certificate in Periodontics at Temple University Philadelphia, USA, in 1988
Dr. Chung served in the Ministry of Health and National Dental Centre from 1988 to 1998, and also completed research fellowships at both Eastman Dental Centre, University of Rochester and Harvard School of Dental Medicine.
Dr. Chung has been teaching part time at NUS for more than 20 years and served as an internal examiner for the NUS Master in Dental Surgery Programme (Periodontics). He has also presented many lectures, workshops and seminars in Brunei, Cambodia, China, India, Indonesia, Malaysia, Myanmar, Nepal, USA and Vietnam and authored a number of articles and abstracts in various peer-reviewed journals and other publications.
Dr. Chung left the public sector to become a partner in RCOLL in 1998, bringing with him more than 20 years of experience in Periodontics. His practice is limited to Dental Implants and Periodontics where he specializes in gum conditions and diseases such as gingivitis, bad breathe, gum abscess and recession.
Specialties
Dentistry
Dr. Ong is a specialist oral surgeon with over 17 years of clinical experience. After graduating from National University of Singapore, he furthered his training in Oral & Maxillofacial Surgery and graduated with a Master of Dental Surgery. He has a special interest in pain management, and had completed a master degree and doctorate in this field from University of Wales and University of Newcastle upon Tyne respectively. Dr. Ong is also a fellow of the Royal Colleges of Surgeons of England, Ireland, Glasgow, and Australia.
Dr. Ong is an adjunct senior lecturer in the Faculty of Dentistry at National University of Singapore and a visiting consultant at National University Hospital. He is a certified specialist in Oral & Maxillofacial Surgery by Singapore Dental Council. He is also certified in the use of intravenous sedation and laser dentistry from Albert Einstein College of Medicine and American Society of Laser Medicine & Surgery respectively. He has vast experiences in all the surgical aspects of dentistry, e.g. dental implants, cosmetic, wisdom teeth, pathology, trauma, reconstructive, pain and anxiety management.
Specialties
Dentistry
Dr Lewis Lee graduated as a dentist in 1983 from the National University of Singapore and obtained a Masters in Oral Surgery in 1986. He followed this up with a Fellowship in Dental Surgery from the Royal College of Surgeons of Edinburgh in 1989. He then received recognition as a dental specialist in 1993 from the Academy of Medicine Singapore.
Dr. Lee underwent dental training in various institutions within the Ministry of Health Singapore, Singapore Armed Forces as well as a visiting dental specialist in the Royal Children; Royal Dental and Royal Melbourne Hospital in Australia.
Dr. Lee holds an adjunct teaching post with the National University of Singapore Dental Faculty as well being a Visiting Dental Specialist with the National University Hospital. He was the President of the Singapore Dental Association in 2001 – 2003 and recently in 2007-2009 when Singapore hosted the World Dental Congress.
Specialties
Dentistry
Dr. Shawn Choo is a general dentist who graduated from the University of Adelaide (BDS). As a dentist, Dr. Choo is responsible for providing a range of dental services to patients, including general check-ups, fillings, extractions, and other treatments aimed at maintaining and improving oral health.
Dr. Choo has experience working in public hospitals and rural clinics in South Australia during his full-time clinical placement. He is committed to providing the highest level of care to his patients. With a focus on preventative care and patient education, Dr. Choo strives to help his patients achieve optimal oral health and maintain healthy, beautiful smiles.
Specialties
Dentistry
Dr Nurhidayati Binte Mohamed Suphan was a Mendaki Award winner and an IDB scholar. She received her medical degree from the National University of Singapore and completed her advanced specialty training in Obstetrics and Gynaecology. As part of her training, she has worked in various hospitals in Singapore; mainly in the National University Hospital. She was involved in various research and journal publications including randomised controlled trials while working in NUH. She was also a tutor to the medical students in the National University of Singapore as well as an examiner during the medical students' exams. While working full time, she completed her masters degree with a merit in executive business administration from the Hull University in 2016.
Together with six other doctors, Dr Nurhidayati founded the Muslim Healthcare Professionals in Singapore in 2004. She continues to actively contributes to the community in her free time. She was one of the doctors selected to go on the Singapore Haj Medical Team to Saudi Arabia, Rotary Club to Brazil and Raleigh to Myammar.
Her interests are varied and include travelling so that she may learn the culture of the different communities. She is passionate and dedicated towards providing a holistic care to her patients. She was given an EXSA award in 2009 by Spring Singapore/Singhealth Services in recognition of her contribution and commitment to excellent service. She is still active in the Muslim Healthcare Professionals Association and Geng Sihat to help the community strive towards a healthier lifestyle.
Dr Ken Ung
Dr Francis Ngui
Chermain Wong
Dr Jamie Lee
Dr Stephanie Soh
Shermyn Ow Yong
John Lee
Anthea Seit
Dr Elizabeth Lau